Claw Machine Rental for Promotional Events and Marketing Campaigns
Claw Machine is the most popular merchandising game in every arcade center, office game room, shopping center, theater, bowling alley, and among other places.
Unless otherwise specified, Carnivalguru's Claw Arcade Machines are set up for FREE play. Claw Crane Arcade Machine is initially a coin-operated game, and this function is frequently utilized during events to control the crowd or just gain access to the free items within the machine by inputting a token provided by the client to start the game.
As many of you have discovered, winning a product out of a game at a retail store is difficult; hence, the rented games are set to an easy setting to make it easier to win the give-away product. Please bear in mind that the Arcade Claw Machine is still considered a skill game, and even with the easiest setting, a 100 percent victory rate is not attainable.
One of the reasons that rental Claw Machine games are so popular is the players' passion while attempting to win free merchandise. It becomes even more intense for those who truly win. Our clients believe that paying the participant for his successful participation is the best method to promote their products through the game.
They see it as the best way to reach out to potential customers because it helps develop bridges and bonds with them.

Our Claw Machines can be branded or custom wrapped for corporate events such as promotional activities, trade shows, grand openings, store giveaway, and other marketing campaign events. The standard customized wrap comprises covering all of the external panels of the Claw Crane Arcade Machine as well as some of the internal panels and other sections of the game. Customization options varies across different types of Claw Machine.
We presently use 4 machine styles:
Premium Claw with Yellow / Blue /Red frames
LED Claw Machine
Transparent Glass Claw Machine
Jumbo Claw Machine

All of the machines function the same way; the only difference is in their color schemes and design.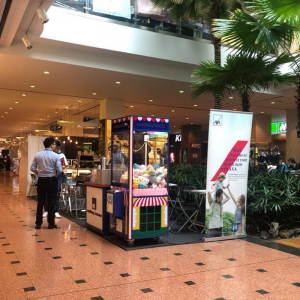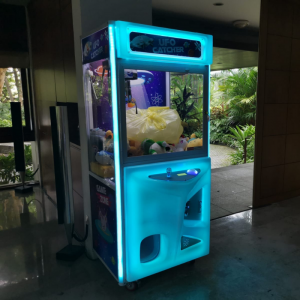 To learn more about the Claw Machine branding and Arcade Claw Machine customizing packaging, please contact our CarnivalGuru experienced staff.