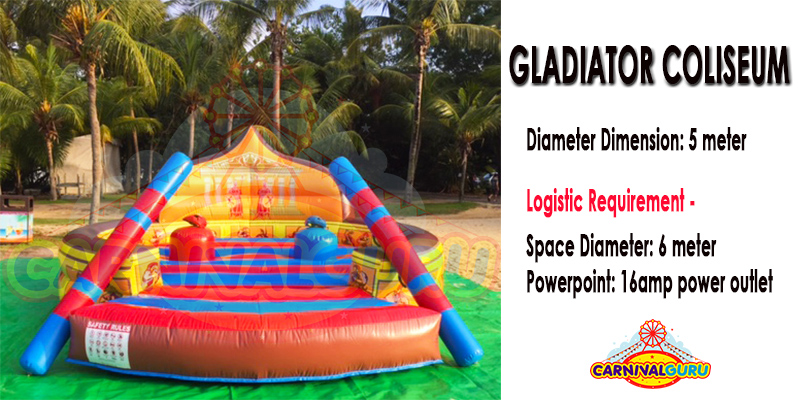 Hire our Gladiator Coliseum Inflatable that is as equally enjoyable for the audience and participant!
Strike, nudge and swing at each other with our inflatable joust poles within the coliseum inflatable ring…
A great entertainment to your party or event!
Are you interested in hiring gladiator coliseum interactive inflatable for your next event? You don't have to keep on searching for this type of a product or equipment because CarnivalGuru offers the best gladiator coliseum available on the market. You just need to provide 6 meters to install this equipment.
The participants as well as spectators can expect ultimate form of enjoyment with our gladiator coliseum. The inflatable joust poles allow you to swing, nudge and strike inside the coliseum. If you are throwing a party, you cannot find a better option to keep your guests entertained and engaged.
When you choose our gladiator coliseum interactive inflatable, you don't have to spend any money for installation. Our package contains delivery, installation, and collection. Our skilled technicians get the job done with clinical precision and accountability. Our price does not cost you an arm and a leg. We also offer special discounts to our loyal customers.
CarnivalGuru offers the best gladiator coliseum hire solutions for our customers. You can expect affordable prices with us. We deliver the product on time at your premise and install the inflatable with accountability. Our products provide the best safety. Highest quality materials are used to make our gladiator coliseum.
Yes; our customer support team is available 24 hours a day. You can talk to them 24 hours a day to clarify your doubts. You can expect clear and direct answers. Our team listens to your needs and responds in a polite and friendly way. You don't have to worry about any wrong or exaggerated information.