Hotdog Buns Machine Rental
The best snack to have at any event, the Hotdog Machine Rental! Juicy hot hotdogs, stuffed in between soft buns, topped with mustard and chilli sauce, everyone loves getting a few bites on them!
Grilled in front of your guests, the smell and sight of freshly cooked hotdogs will surely attract the crowds! Our friendly staff will be there to keep the queue moving and satisfy the tummies of your guests! So, let's not keep the people hungry, rent the Hotdog Live Station from us now!
Rent a Hotdog Buns Station from us for a hassle-free rental.
Standard Rental Includes
Delivery and Setup Service
Friendly staff for operation of machinery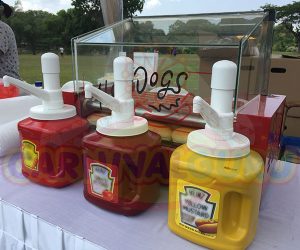 Do you want to buy the most reliable and advanced hotdog buns machine rental solution? CarnivalGuru is the best destination available. We offer the best hot dog machine rental services available today. Our machine is amazingly functional. The process of making hot dogs becomes easy and effortless. The amazing taste of hot dogs is going to take your guests into a different world.
When you approach us to meet your hotdog buns machine rental needs, you can expect speedy delivery. Door to door delivery is what we offer to make life easier for our customers. Nothing is more important to us than timeliness and 100% commitment.
Frequently Asked Questions
We offer everything you need. In addition to providing a highly functional machine, we come up with high quality hotdog buns, chicken franks and condiments. Our commitment is to deliver the most enjoyable rental experience for each client. You can clarify your doubts by talking to one of our customer support executives.
We don't charge an exceedingly high price for our customers. You can expect us to offer the best experience for your guests. Your satisfaction is our number one priority. We always build lasting relationship with each client. That is exactly why our prices are the most affordable in the industry.
Yes; we offer the services of support staffs who are experienced at making the most delicious hotdog buns. We deliver our equipment at your doorstep and you can seek our help to install or setup the equipment.