Traditional Ice Cream Cart Rental
The perfect dessert setting to have under the hot sun, the Traditional Ice Cream Pushcart! Remember the excitement we get when we hear the attractive bell ring of our uncle Ice Cream?
Now, you can relive those moments at your very own event with our Ice Cream Pushcart Rental! Assorted flavours such as strawberry, chocolate and vanilla are all up for your guests to savour on! So lets get the familiar view of the Ice Cream man ringing his bell at your events by renting our Ice Cream Pushcart now!
If you are searching for the best ice cream rental Singapore Company for your event, you don't have to look any farther than CarnivalGuru. We are the company you can rely on to meet any type of ice cream art rental needs. For reserving our equipment, you just need to give us a call. Our customer support team responds to your requirements immediately and serves you in the best possible way.
You don't need to worry about the price when you make use of our ice cream rental Singapore solutions. We offer the cheapest ice cart for your event without making any compromise on quality and functionality.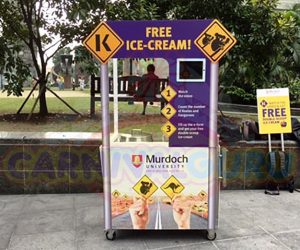 Frequently Asked Questions