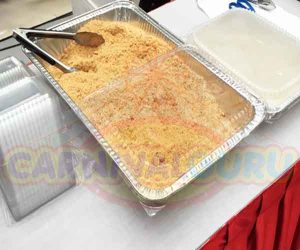 Love muah chee and want to have it at your special day? Carnival Guru brings you a great opportunity to plan your upcoming event with delicious muah chee. We are providing muah chee stalls to slake your taste buds. We come around your venue at scheduled time to make your event more enjoyable with tasty muah chee.
Serving taste despite maintaining hygiene, we ensure you find the pleasure in muah chee at your event. We always think out of the box to bring fun to your event. No matter what your guests' age is, we strive to arrange customized muah chee stall at reasonable costs for you. We make Chinese specialty snacks more delicious to make your event more delightful.
Being a professional, we make the best possible efforts to keep your guests happy. From stall installation to serve the best value for your invested money, we take pride in performing every single task for you. With us, you don't need to worry about managing the stuff for muah chee stall. Moreover, we cover all your requirements and provide you with cost-effective services. Call us today and arrange muah chee stalls to make every occasion delicious at reasonable costs.
FREQUENTLY ASKED QUESTIONS
Yes, Carnival Guru focuses on serving your concerns at its best. We never take your request for granted. In fact, we arrange the best deals irrespective of the number of stalls you book for different locations at once. You can definitely book with us.
No, we strive to maintain transparency in our services. In fact, we clearly mentioned everything that we charge you for to make sure you won't get surprised while booking a stall with us. We never charge extra from our clients.
Carnival Guru ensures a safe and secure payment method. You can book your stall hassle-freely at any time and we accept payments according to your convenience. For further information about payment options, feel free contact our experts.