Singapore's Favorite Ice-Cream Carts
Are you wondering what to serve your next event or block party?
You can provide your guests with ice-cream bonanzas with Party Plus's ice-cream carts! Both locals and tourists alike enjoy the flavors of these carts, which include Vanilla, Chocolate Chip, Coconut, and even Atap seeds (aka Attap Chee). They also come in a variety of bright colors, making them the perfect decoration for any party. ! Renting is also very easy – just call us and we will take care of everything!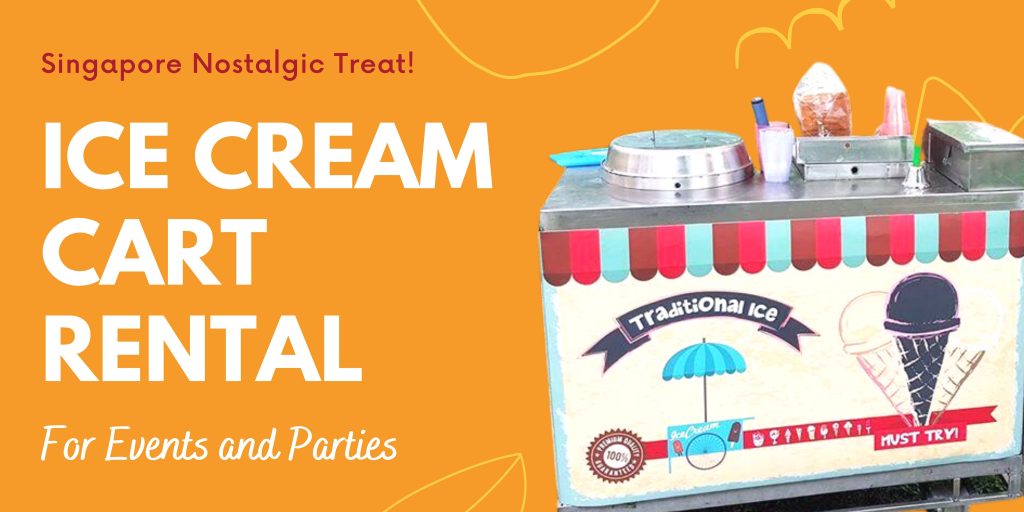 Ice-Cream Cart Rental Singapore
Adding an ice cream cart to your next birthday party or corporate event is a great way to add a little something extra. Fun and festive desserts can be provided with ice cream carts, allowing your guests to have even more fun. From traditional pushcarts to modern trucks, there are many types of ice cream carts; we've compiled a list of a few of our favorites. If you're planning an event, this list includes both fixed options and rental services, so whatever the occasion, you'll be able to find an ice cream stand that's perfect for the occasion.
Traditional Flavor Ice-Cream Scoop
Our summertime treat of choice is scooped ice cream.
When it comes to bright summer treats, ice cream carts are in a class of their own. The colorful, traditional flavor ice cream scoops served in cups and cones, as well as other frozen desserts, are an iconic part of Singaporean summers. We also enjoy these inexpensive refreshments on lazy weekends! These classic treats aren't just for kids; they're perfect for adults too! A traditional ice cream cart can be rented for parties and events.
Flavors available:
Coconut
Sweet Corn
Chocolate Chip
Palm Seed (Atap Chee)
Other Flavors
Trying so many different flavors is so much fun! You can find ice cream carts selling sweetcorn or yam ice cream in Singapore, for example. You can choose from flavors like strawberry and mango, among others. Consider including an ice cream cart for your guests if you're throwing a party at your house. Enjoy delicious ice cream with your guests on a hot summer day. Your customers will love your waffle cart if you offer various types of waffles and other snacks to go with it. Another great option is a soft-serve cart. As long as you have enough space, you will be able to serve all of your friends while enjoying the beautiful weather.
Flavors for traditional slice ice cream in colorful bread or wafer are :
Yam
Vanilla
Chocolate
Ripple
Mango
Coffee
Sweet Corn
Strawberry
Honey Dew
Chocolate Chips
Mints Chocolate Chips
Rent an Ice Cream Cart For Your Next Event
The addition of an ice cream cart to your next party or event adds a unique touch.
We can bring you one of our popular mobile ice cream carts or a traditional ice cream truck. Mobile carts and traditional ice cream trucks are available for you to choose from. You and your guests can choose between two options for frozen treats. Whether it's a children's birthday party, corporate family day, a community event, or a charity fundraiser, our ice cream cart rental Singapore will make any event more memorable.
We also provide other cool Carnival treats such as:
Soft-Serve Ice-Cream Live Station