Thai Ice Milk Tea Live Station
The sweet sweet taste of a rich milk tea can make anyone's thirst quenched and cravings satisfied but Carnivalguru has something better for those looking for a little bit more "exotic" taste to their milk tea, our Thai Iced Milk Tea Live Station!
You can now cater freshly brewed thai iced tea for your guests upon demand, definitely a treat you can't refuse to have at your event! Get your sip of our delicious Thai Iced Milk Tea Live Station now by renting from Carnivalguru!
Hire our Thai Ice Milk Tea Station from us for a hassle-free rental.
Standard Rental Includes
Delivery and Setup Service
Friendly staff for operation of machinery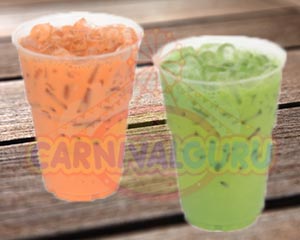 Do you want to serve the perfect Thai ice milk tea for you guests? You can contact CarnivalGuru to offer highly tasteful ice milk tea. We offer the best Thai ice milk tea station rental solutions for our customers. We take care of your needs in a responsible and smart way.
We don't ask a high rental price for our Thai ice milk tea station. In fact; our prices are the most competitive in the industry. Our ultimate focus is to ensure 100% customer satisfaction. That is exactly why we offer the best equipment at best prices. You can contact us to get professional help for operating the machine at your event.
Frequently Asked Questions