Thai Ice Popsicle Live Station
Looking for a chilly cold dessert to keep your guests happy in the warm weather? Well look no further cause we have the Ice Popsicle Live Station! Variety of your favorite soda drinks in popsicle form, nothing else can beat that when you are in the sunny outdoors! Our joyous staff will be there spinning the machine around to make the best popsicle for you! Come on then, chill out and rent the Ice Popsicle Live Station from us now!
Rent the Thai Ice Popsicle Live Station from us for a hassle-free rental.
Standard Rental Includes
Delivery and Setup Service
Friendly staff for operation of machinery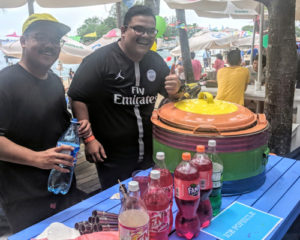 You may also consider renting our popcorn machine rental
Do you want to rent the most efficient and smart Thai ice Popsiclelive station? You don't have to look any farther than CarnivalGuru. Our top quality live station can be used to make chilly cold desserts to create a cooling effect during your summer party. You can make a broad range of Popsicle drinks at our live station.
Your guests will always be at a relaxed state of mind with the wonderful drinks. Our professionals get the delivery and set up done in a timely manner. You can even seek our help to operate the machine and serve the guests in a professional way.
Frequently Asked Questions
We offer standard as well as customized packages for our customers. You can contact our customer service team to collect information about the latest prices and packages. No matter what type of service you choose; we guarantee stunning cost competence for our services.
Our Ice Popsicle Live Station allows you to make a wide array of soda drinks and cold desserts in Popsicle form. Our smart and vibrant staffs will spin the machine around for preparing the best drinks you can ever imagine. We offer delivery and setup to make your life a lot easier while hosting a party.
We maintain a wide range of event equipment at our warehouse to serve the varying needs of different customers. You don't need to worry about the intervention of any middlemen while renting equipment from CarnivalGuru.