Waffle Live Station
Sweet, fluffy and most importantly delicious, it's Waffles Live Station! Made fresh on the spot, deliver some scrumptious goodies to your guests with our Waffle Live Station!
The thick gooey batter spread out across the cooker will give out an aroma that will definitely attract the noses of anyone that comes across the tract and let the queue grow! Different spreads are available to enhance the delightful taste of the waffle!
Let's start warming up the waffle maker and start serving the waffles with our live station! Enquire now!
Hire our Waffle Live Station from us for a hassle-free rental.
Standard Rental Includes
Delivery and Setup Service
Friendly staff for operation of machinery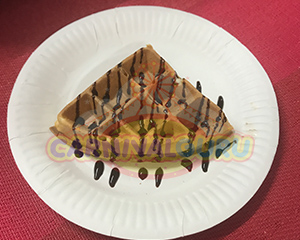 Are you planning to have a waffle live station for your next party? You can seek the help of CarnivalGuru to hire the most advanced and efficient live station to offer some mouth-watering goodies to your guests. You can create a long lasting impression in the minds of your guests when you hire our waffle live station.
Our prices are the best in the industry. We don't make you wait when you place an order for waffle live station. Timely delivery is our commitment to each customer. We also offer the services of machine operators along with set up service to make your party successful.
Frequently Asked Questions
We offer the best waffle live station with excellent functional benefits. Delicious goodies can be served to your guests with great confidence. When you use our product, the thick gooey batter spreads out across the cookerto offer a captivating aroma. We provide various types of spreads to take the taste of the waffles into a different level.
We offer flexible and safe payment methods to protect the interests of our customers. You can choose a convenient option based on your needs. We also accept cash payments.
You can place your order for waffle live station rental when you decide the date of you party. This approach helps you avoid all hassles involved with last minute requests. However, you can also approach us to meet your emergency requirements.