Traditional Drinks Stall Live Station
Nothing beats the relieve of gulping down of a cup of grass jelly after a long hot day under the sun and we can give your event just that with our Traditional Drinks Live Station! Freshly mixed and served, our Traditional Drinks Live Station includes Singaporean's favorite grass jelly, Ice Longan and so many other classic drinks! Traditional drinks always have a special spot on our tastebuds which will definitely be a hot favorite at any event! So, let's start serving those cold refreshing traditional drinks and enquire from Carnivalguru now!
Rent the Traditional Drinks Stall Live Station from us for a hassle-free rental.
Standard Rental Includes
Delivery and Setup Service
Friendly staff for operation of machinery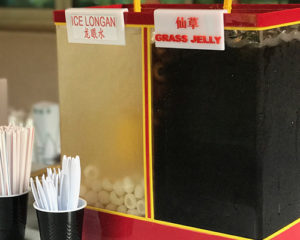 Are you searching for ways to serve traditional drinks at a party? You can choose our traditional drinks stall live station to serve your guests in the most efficient and smart way. CarnivalGuru guarantees to provide a great experience for your guests. Freshly mixed traditional drinks can be served in a fast manner.
When you depend us to hire traditional drinks stall live station, you can enjoy high affordability. Our prices are the most affordable in the industry. If you don't find our standard packages satisfactory, you can contact our customer support team to design a customized package. We offer delivery and setup services for our customers. If you want assistance to operate the machinery, you can contact us.
Frequently Asked Questions
The simple reason is that you can freshly mix and serve a broad range of traditional drinks to your guests. Our product can be used to make types of classic drinks. Everything can be done in an effortless way with our traditional drinks stall live station.
Although we offer the most advanced and reliable equipment, you can enjoy stunning affordability with our product. You can hire our services at the best prices available in the industry.
Yes; we want to offer the best experience for our customers. That is why CarnivalGuru send friendly staff for the operation of machinery. You can also expect delivery and set up services with us. Special drinks preparation can be added to a standard package to meet your unique needs and preferences.