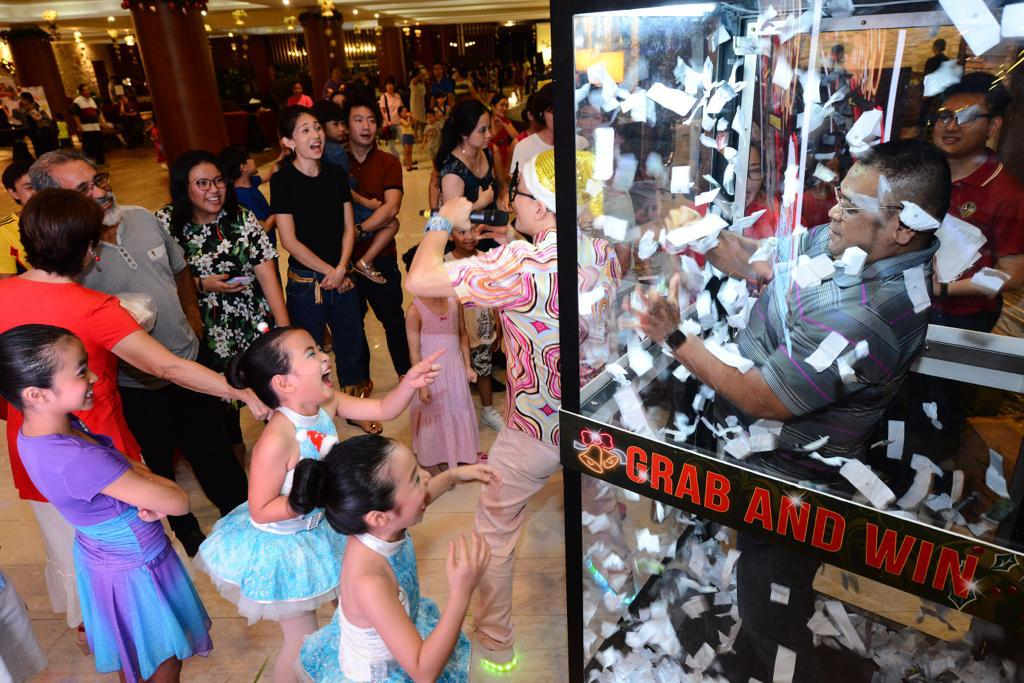 CASH FLOW MACHINE


(known as "Wind Chamber" / "Cash Flow Booth")



Whether you call it a Cash flow machine, Money Machine, Money Blowing Machine, Cash Grab Booth or Ticket Blowing Machine, we are offering rental services for what you are looking for. Grab some attention during your next promotion, event, company giveaway, fundraiser or function with Carnivalguru's best cash grab machines.
Nothing compares to the kind of fun and excitement created as people try to grab all the money they can get a hold of straight out of the air! We know this because it looks so easy and tempting but we can assure you to try it before you judge it. Our cash grab booth draws so much attention and amazement as everyone will always want to grab all the cash!
Carnivalguru is a results-focused event company trusted by some of Singapore's largest companies. We help create an energetic atmosphere of excitement that attracts large numbers and will help you generates more leads.
You don't have to waste your precious time and money sitting while waiting for people to approach your stand at the next trade event. Use our state-of-the-art cash grab machines to draw in an excited crowd.
Our cash cube equipment meets safety standards, is easy-to-use and provides loads of enjoyment for everyone.  You can have your own customized cash cube machine or ticket blowing machine with your one of a kind logo for that exclusive touch.
Carnivalguru can transform your event into a fun and exciting experience that will leave your visitors' minds blown. This cash blowing machine would be perfect for parties, events, carnivals, picnics and festivals. If you have a more official visit, it can also suit church functions, family reunions, bank promotions, corporate promotions, and other special functions.
If your aim is to drive traffic to your trade show booth, there's no better way to do this than by using our cash blowing machine. It's an irresistible sight to behold. Coupled with the sound of swirling money or priced vouchers, the rental cash blowing machine will surely grab attention and win over customers. It's simply the ideal marketing tool. Besides, our clients report the highest level of engagement after using this interactive attraction.
There are many ways to use this cash grab machine. You may blow cash, vouchers, certificates, or any paper product that complies with the cash grab machine. We prompt all participants to grab as many cash bills as they can without picking the ones below the knees as that would make the game way easier picking them from the ground.
As soon as you start the game, spectators will laugh immediately as the participant in the machine struggles to accumulate the cash. We recommend that you insert approximately 200 bills in the machine for optimum circulation. With 400 bills, the participant can grab an average of 20 to 35 bills in about 20 to 30 seconds whilst in the machine.
You can use the money grab machine for customised vouchers and coupons to promote your business. You may choose to reduce the number of bills taken by allocating less time for the participant to grab the bills they can.
Rental rate inclusive of:
Dimension: 90 cm (width) x 100 cm (depth)  x 200 cm (height)
Blower
Delivery and Setup
Dismantle and Collection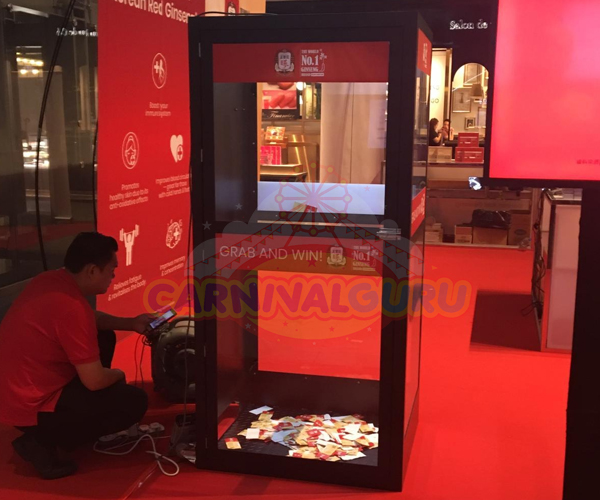 The rules and safety guidelines of using our cash flow machine include:
Participants must always be in good physical condition to use this machine
People with back, neck, knee injury, joint injury, respiratory complications or are pregnant should not participate unless approved by a physician before participating in the event.
The cash grab machine should be operated by an attendant at all times
Participants should face frontwards and catch bills in the air only
Participants should neither trap cash against the roof, walls or the body nor should they bend below the waist or below the knees to retrieve fallen cash.
Participants must be escorted in and out of the machine by the attendant