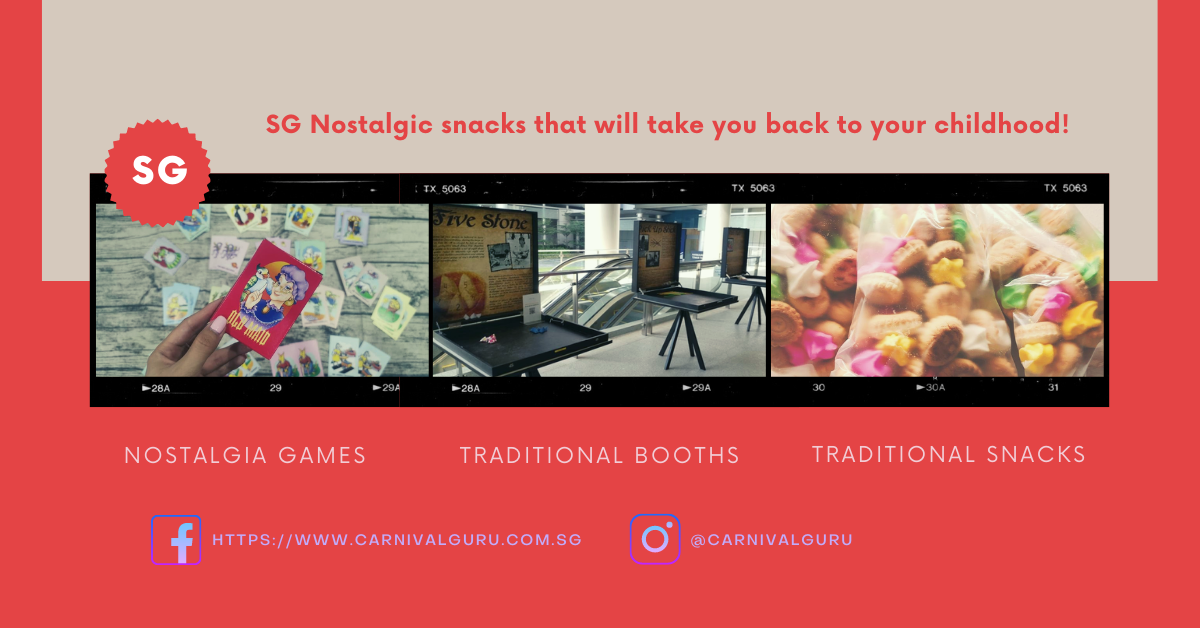 Singapore Nostalgia Traditional Stalls
One of the most popular outlets of a carnival or festival is their long rally of finger-licking food stalls, right! Who doesn't like food? And when it comes to the traditional Singapore food stalls, it is not just the taste but the nostalgia of having your first kacang puteh snack on the way from your school to home or enjoying a plate of steamy tutu kueh filled with palm sugar, on a day of outing with friends; comes back to our memories.
From kids to adults, no one can deny their love for perfect, mouth-exploding, casher and sugar-coated kacang puteh in the lion city, Singapore. Not just cashew, but you can enjoy your favourite coating of kacang puteh with green peas, sugar-coated peanuts, and many more delicacies to choose from.
Love muah chee more than any other traditional snack? Don't worry as we can even fulfil personal demands of setting up multiple stalls of a single kind of snack as well. We can bet you on serving the best muah chee in your life
Not only offering our clients with the taste buds loving food that they can devour on at our food stalls, but we ensure the safety of our clients and other attendees of the party by maintaining the proper hygiene measures.
Don't let go the charm of your party with instant made snacks or packaged foods, when you can have a traditional Singapore food live station and enjoy the delicious ice kachang or hot and tasty tutu kueh, just poured into your plate from the stove, with the best food live station service provided by us at CarnivalGuru.
Who said that arcade games at carnivals are just for kids? Do you remember the moment when you shot a perfect score in shoot the duck game or the feeling of getting the highest score in the basketball machine in front of your class at school trip? How about reliving that moment with the traditional games we have been playing ever since our childhood?
From Down a clown to milk can toss, we have a wide range of variety of gaming stalls available at CarnivalGuru to make your as well as your guests engaged in fun and exciting activities. With amazing carnival games such as shoot duck or ring toss game, you can give your kids the best carnival experience at the best price.

Goodies bags are the fun way to fit surprise and excitement in every occasion, and we have been gifting our friends and family tons of surprised wrapped and bagged in traditional goodies bags since our childhoods. From birthday parties to wedding events, traditional goodies bags are the perfect packaging companion for every event.
CarnivalGuru is offering every carnival services from food stalls to gaming arcades to our clients at the best price you can find in the industry.