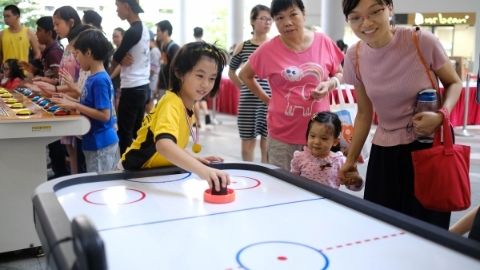 Why You Should Rent an Air Hockey Table for Your Next Event
Finding the perfect addition to your next event can be difficult, especially if you're looking for something that will appeal to both kids and adults alike. It may surprise you to know that air hockey tables are perfect entertainment options, and you'd be surprised at how much fun it can be! Read on to find out why you should rent it for your next event!
1) Rent Air Hockey Tables
Air hockey tables are one of the best ways to keep guests entertained at your next event. They are interactive and energetic. It is a great idea for business retreats, kids' birthday parties, corporate events, school carnivals, church events, and much more. A game of air hockey will keep your guests active while encouraging them to socialize. The game can be played by almost anyone of any age so it's great if you need activities that all members of your party can participate in. Whether you are hosting a small party for family or close friends, an air hockey table rental will look sleek and feel sturdy.
2) Know Where to Place 
You should rent an air hockey table if you're planning a birthday party or just want to throw a fun event! It is best to locate it in a large area with plenty of space for both players and spectators. It can be used for a variety of events, including backyard parties, corporate events, holiday parties, and family reunions.
3) Know What Are the Types to Rent
The best part about air hockey table rental is that there are tons of options to choose from. Others prefer larger tables where they can play multiple games with their friends. Some prefer smaller and more compact air hockey tables that take up less space. Choosing the right kind of table for your next event depends on what you want.
4) Portable and Easy to Setup
When you're looking to host a party or event, finding space to host your guests can be challenging. But with air hockey tables, you don't have to look very far! Because they are completely portable, tables are easy to set up wherever you need them most. They're easily transported by one person using lightweight materials that make it easy for anybody to carry around.
We also have a variety of sport-themed arcade games that you can look into. The following games include:
Basketball Arcade Machine (with LED lights)
Foosball Table
Arcade Puncher
Arcade Air Hockey
King of Hammer (Mr. Hammer)