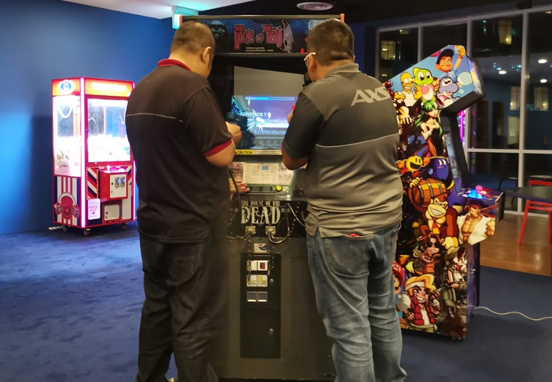 Arcade Rental for Arcade Gaming Week at AXS
Recreational activity is the hidden mantra behind energetic staff and vibrant company atmosphere.
This is the reason why most of the companies arrange picnics, parties and events for their working staff. AXS is no different. It has arranged a Singapore Arcade Gaming Week at AXS. So, the week is all about nostalgia, games, fun, and competitiveness.
Everyone loves playing games, and also misses those fun young days, when the only thing to look forward was getting home and playing games. Also, the occasional visits to arcades in Singapore such s Cow Play Cow Moo and play stations were fun.
To recreate those nostalgic moments, AXS has arranged Arcade Gaming Week at their office.
We has catered some of its best Arcade Games for a week AXS. During this one week, all the staff and guests in the office can enjoy the pleasure of revisiting some of their old memories and also recreating a few new ones.
The idea of arcade rental is fun as well as innovative as people love playing irrespective of their age. Renting different Arcade games helps in creating interest among different categories of people. So, AXS rented four different genres yet famous games to create a nostalgic week and environment for the entire week.
House of Dead
The first arcade game installed for the staff is House of Dead. Quake and Doom are still fresh on everyone's mind, and this rail shooter arcade game is just one step further. Shooting is a fun and competitive game. So, when this arcade games Singapore rental is set up in the office premises, there is ought to be some fight for the highest shoots among colleagues.
This arcade game also has received its fame because of the interesting yet simple storyline to rescue by shooting anything and everything that moves. The best part is that the game takes you to different locations, surprising you each time with a different trick.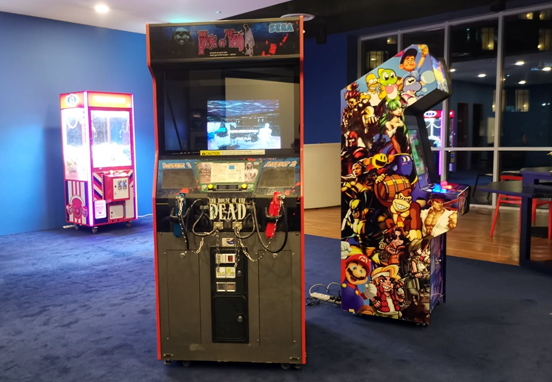 Classic Video Arcade
When we talk about nostalgia, how can we miss the classic arcade games? This arcade machine rental is one of the most famous and demanding games not only in Singapore but all over the world. With more than 1000 games to play like Pac-Mac, Mario, Donkey Kong, and Street Fighter, this gaming machine attracts people more than anything else.
With the rented Classic Video game from Carnivalguru settled in the AXS office premises, the familiar sounds of childhood were all to hear. The theme music, game over sounds, points notifications, and same old arguments for their turns to play were treat to ears.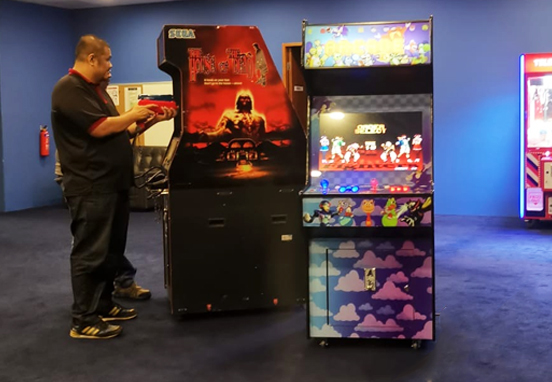 Daytona US Racing Arcade
How can a Singapore Arcade Gaming Week be complete without a racing game? We made arrangements of the famous Daytona Arcade Racing for this special week in AXS. The racing game is famous from the 90s from the date of its release. The awesome tracks, the scenery, and adrenaline rush in competing is something we can never get hang of.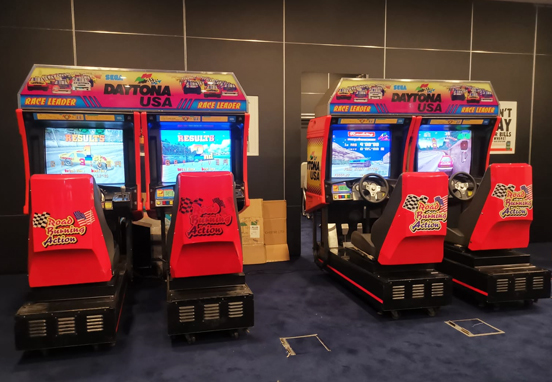 This arcade game brings a different level of aura in the gaming arena as people compete and show off their skills. With pride to play for and also a few prices of candies kept besides, Daytona arcade racing game is all one can wait for.  
Claw Catcher Machine with Assorted Soft Toys
Lastly, the final cheery on the cake is the Claw catcher machine. With some time to relax as well as win amazing gift toys for their selves, the Claw machine definitely attracts quite a crowd. To pick the assorted soft toys was a task that very few can do well.
After all, it needs practice along with immense concentration. Only a few could get toys out of the claw machine, but giving a try is never wrong. Therefore, the claw catcher definitely saw some crowd and also intense faces as well as happy faces of people around.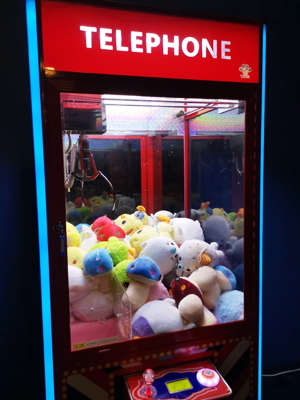 The Arcade gaming week at AXS was worth every moment, especially with bringing the vibe of nostalgia. We took care of setting everything at the right places to attract attention as well as avoid crowded gatherings. The week of games definitely a success, and the arcade rental company made this huge task look like just a piece of cake.
Find out more HERE!
Follow us on Carnivalguru Facebook for more updates!